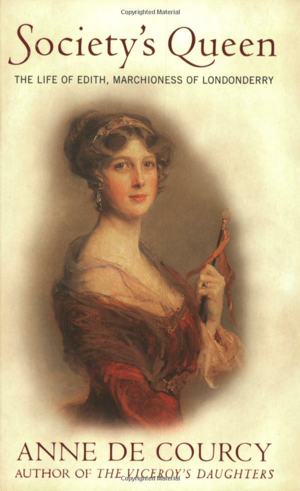 Edith Chaplin, who became the wife of the seventh Marquess of Londonderry, was a woman who could easily have led the life of an empty-headed society beauty, entertaining grandly and, as was the custom in her milieu, drifting through a series of semi-clandestine affairs. Instead, she carved a role for herself that involved war work, politics, a great garden and the forwarding of her husband's political careerby every means possible.
Her father, Henry Chaplin, was the archetypal Victorian sportsman who in his youth would hunt six days a week and would often ride one of his thoroughbred hacks forty mils to a dinner and ball afterwards. Her mother, Lady Florence Leveson-Gower, was the daughter of the Duke of Sutherland, the largest landowner in Britain – when she looked out of the topmost window of his seat, Dunrobin Castle, everything she could see belonged to her father.
Although Edith's marriage to the glamorous Charley Castlereagh, heir to the immensely rich Marquess of Londonderry was in some sense an arranged match – Charley had been embroiled in an affair with an older actress and his parents wanted to see him settled – Edith fell deeply in love with him, managing to justify his constant affairs by saying to herself that if she could not resist him, how could any other woman?
She herself was totally faithful to her philandering husband and, when the 1914 war broke out, began the work for which she would later be recognised as one of the first Dames of the British Empire. This was the founding and expanding of the Women's Legion – women enrolled to do work previously done by men, for which she used every ounce of her considerable powers of charm and persuasion. So valuable was its service that most of its branches were later subsumed into the armed services.
She also ran a wartime salon-cum-club called the Ark; members had to be invited to join and each one had to take the name of a bird or beast, mythical or real = Winston Churchill was Winston the Warlock, her husband Charley was Charley the Cheetah. Here champagne was drunk, silly games played as members, many of them on leave, relaxed from the rigours of war.
After the war, she poured her energy and enthusiasm into creating the magnificent gardens at the Londonderry Irish seat, Mount Stewart, in County Down (these are now run by the National Trust. At the same time, she dominated London's social scene, largely through the glittering Eve-of-Parliament parties she gave in Londonderry House. Guests would walk up the magnificent staircase four abreast to where Edith, in the dazzling Londonderry diamonds and a black dress, received them with the Prime Minister of the day by her side. Often, this was Ramsay MacDonald, Britain's first Labour Prime Minister, who became romantically obsessed by her.